Practical Maths
Practical Maths
19 November 2021 (by Class Teacher (teacher))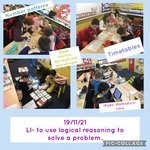 Mrs Kennedy's Year 7 class worked on their problem solving skills today in numeracy. We had 4 different group activities going on in class which all pupils will get the chance to work on.
Activity 1- Mathletics- time activities to consolidate prior learning
Activity 2- elapsed time activity using timetables
Activity 3- Number pattern- pupils used counters to investigate square and triangular numbers
Activity 4- iZak9 Fraction Action- pupils investigated decimals, percentages and fractions and then ordered them from smallest to largest.
I hope you enjoy looking at our exciting activities.