Break The Rules Day!
Break The Rules Day!
12 May 2017 (by ckane791)
On Friday 12th May, children took part in a Break The Rules Day fundraiser.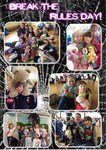 Children were given a list of 5 rules that could be broken and had to pick which ones to break at a cost of 50p per rule broken! Some very naughty boys and girls broke all the rules!! Everyone had lots of fun breaking the rules for a day and we raised £583 in the process! Thanks to everyone for taking part!